Yuki Shirojiro
白代雪
Real World
Debut:
Hatoful Manga
Theme:
N/A
Character Voice:
N/A
Heartful Stats
Hatchday:
Unknown
Gender:
Female
Species:
Diamond Dove
Occupation:
Gravure idol
Also known as

None

v • d • e
Yuki Shirojiro (白代 雪) is a young bird and gravure idol. Not much is known about her as of September 2019.
She is well mannered and sweet, speaking in third person. A friend of Tohri Nishikikouji. She gives interviews that land in the Golden Weekly magazines. She may be one of the very few people who are allowed to call Tohri "uncle" (oji-san, originally translated as "mister")
Yuki may have a twin brother who often appears alongside her and Tohri in drawings, but not much is known about him as of now.
Early Life
Edit
Hatoful Manga
Edit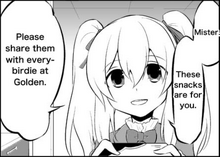 Physical Description
Edit
Yuki is a small diamond dove.
In her human form, she has long blue hair that's tied into two pigtails by dark bows. She is often seen wearing a plain, white frilly dress.
Personality and Traits
Edit
Yuki speaks in third-person.
Relationships
Edit
Etymology
Edit
Yuki consists of the character 雪 (yuki) meaning "snow". Shirojiro consists of the characters 白 (shiro) meaning "white, pure" and 代 (jiro) meaning "substitution, price, castle".
Notes and References
Edit
Community content is available under
CC-BY-SA
unless otherwise noted.