Some articles need a little help hatching.
"Forget the thieves, this is the first time I've heard the name of this town! I guess it just never comes up in conversation or anything. The more you know~☆!"
Littledove Hachiman City (小鳩八幡市) is the setting of Hatoful Boyfriend and the first half of Hatoful Boyfriend: Holiday Star. It is first mentioned in the first episode of Hatoful Boyfriend: Holiday Star, "The Christmas Thieves Attack!".
Punkgeons occasionally patrol the city to pick on any bird who stays out too long after dark.
Points of Interest
Edit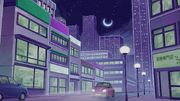 City park - The city park is where local events such as Tanabata and the summer festival take place.
Grocery store - It is assumed it is somewhere near St. Pigeonation's as Okosan once rushed there to find pudding.
Anghel's parents' fish store.
Transvestite cafe - Ryouta Kawara works here under the alias "Coolene."
Shrine - A Shinto shrine located on the outskirts of the city.
Hiyoko's Cave - A cave located on the outskirts of the city.
Tanabata - On 7 July, residents gather in the city park to place wishes on the bamboo there.
Summer Festival - The city hosts a summer festival that takes place on 6 August. It includes food and game booths as well as a fireworks show. It's assumed Azami Koshiba manages a takoyaki stand here.
Notes and References
Edit
Community content is available under
CC-BY-SA
unless otherwise noted.