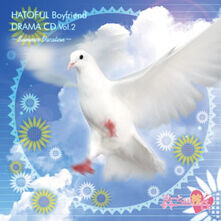 All CDs are only in Japanese. Depending on where you buy your copy from, a different bonus postcard will be bundled with your CD.
Moa herself has written summaries for her English-speaking fans. Moa's Prologue summary can be found here and Primal Feather summary here.
Voice Cast
Edit
Kawara Ryouta: 浅沼晋太郎 (Asanuma Shintaro)
Nanaki Kazuaki: 野島裕史 (Nojima Hirofumi)
Sakuya Le Bel Shirogane: 石田彰 (Ishida Akira)
Fujishiro Nageki: 斎賀みつき (Saiga Mitsuki)
Sakazaki Yuuya: 遊佐浩二 (Yusa Kouji)
Iwamine Shuu: 子安武人(Koyasu Takehito)
Okosan: 若本規夫 (Norio Wakamoto)
Higure Anghel (2nd, 3rd and 4th cd only): 櫻井孝宏 (Sakurai Takahiro)
Nishikikouji Tohri (3rd and 4th cd only) : 三木 眞一郎 (Miki Shin'ichirou)
Sasai Kouichi (3rd cd only) : (Oohashi Takamasa)

List of CDs
Edit
Hatoful has four published drama CDs so far:
Primal Feather
Second Feather: Summer Vacation
HatoMame Sweet Blend (鳩豆スイートブレンド)
Summary of CD contents
Edit
1st drama CD, Prologue - Investigation of the Seven Mysteries of St Pigeonation's. Ryouta, Sakuya and Okosan are the main characters in this CD.
2nd drama CD, Vol1: Primal Feather - Anghel's Fantasy AU battle with Wallenstein, after the school falls into a RPG dungeon-like hell. It begins by following Ryouta and Sakuya.
3rd drama cd, Vol2: Summer Vacation - a collection of stories concerning Tohri, Sakuya and the Hitori and Nageki pair.
4th drama cd, Vol3: Hatomame Sweet Blend - theme is 'Legumentine's'.
Fan Translations
Edit
Prologue:
Primal Feather:
Summer Vacation:
HatoMame Sweet Blend:
Community content is available under
CC-BY-SA
unless otherwise noted.